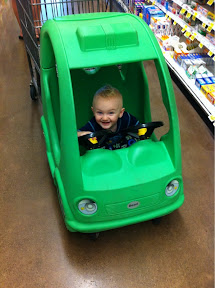 We started off our first day on vacation by hitting up Kroger for some items for a get-together with some of my college friends. Gus thoroughly enjoyed riding in the toddler cart at the store!
We had a great time at Caroline's and got to see April and Sean and meet their baby Henson, and then Amy Lynn came and I got to see her wedding
pictures! Jen and Nicole couldn't make it, but we had fun with everyone that was there! Tom showed up as we were leaving and it was good to see him.
After our morning at Caroline's, we headed to Scott & Christie's for Lily's birthday party! We had so much fun!!
I FINALLY got to meet my baby niece Charlie!!
We had pizza and then cake, ice cream, and Lily opened her gifts.
My cousin Jessica was there with her daughter B and husband, and then Fr. Terry was there and my other cousin Brandon came with his wife and son X (he's seven months older than Gus and four months younger than Lily).
After everyone left, we put Gus down for a nap and stayed all night visiting. We got back to my patent's house and Gus played for a bit before bed.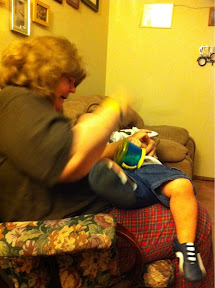 It was a great day!!
Posted using BlogPress from my fabulous iPhone!