Oi vey!!
What a long day! We got up from a pretty sleepless night and tried to scramble and pack up a bit before the movers arrived. I took Gus to Kristen's and left there around 9:15...
This is what I saw as I came up the street:
Our movers (there were five of them) got started immediately and had already packed a bunch of stuff before I arrived. They packed the Picky Stickies and I had meant to grab them for Sunday! Now we'll be SOL!
The day was a blur but it was long. The movers left at 7:30 tonight and we put Gus in the tub and into bed right after.
Here are pictures from today: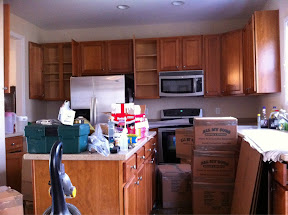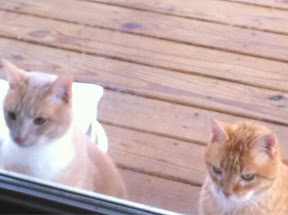 This morning our realtor came by and put the for sale sign up and put the lock box on the door.
Our whole house will be painted this weekend, then the professional cleaner will come and then the professional photographer will come early next week.
Our whole day was exhausting. We ended up buying the entire crew lunch (we had not expected to pay for everyone).
Gus's room is empty
The playroom is empty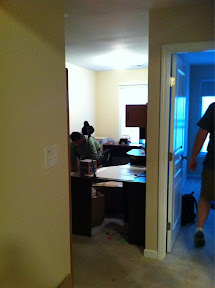 Kristen texted me to let me know that Gus was okay... Sad and a little off, but okay. So she put Mickey on and he was happy.
I saw Wendy today- she's going to watch Gus for us in the morning. We should be done tomorrow around noon.
The pets stayed on the screen porch all day. It got cold so they started to snuggle together!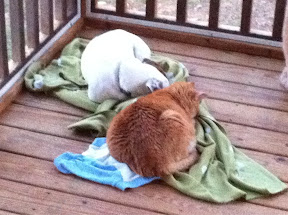 I headed to Kristen's for the last time ever and got sad. Gus was so excited to see me and I was so happy to see him!! He and Grace played for a bit before we said our goodbyes.
I'm so sad to leave- I got teary and decided that it's not goodbye forever. Kristen's parents are only two hours from our new place so we'll definitely see them again.
I stopped at Applebee's and grabbed dinner for us. We ate, the guys loaded the garage and then they left.
Tomorrow at this time we should be in our NEW HOME!!
The office
Now we pray that the house sells quickly!!
See you tomorrow!!
Posted using BlogPress from my fabulous iPhone