December 28th, 2011
We got up and got showered and then Steve and I headed to the Department of Driver Services (DDS) to get our Georgia licenses! My mom and dad stayed home with Gus and it was nice to actually get out for a bit just us two.
We got our licenses without any problems and they should arrive within 30 days. On the way home, Steve stopped to get my emissions test done, and then once we got home, he headed back out to get the test done on his car.
We put Gus down for a nap and then when he was finally up, he had lunch and we headed to Target for our day after the day after Christmas shopping.
Since Steve's dad and Sue Ann got us 1/2 of our dishes (4 plates, 4 salad plates and 4 bowls), my mom and dad got us the other 1/2 of our set! Now we're all set! We also got two big storage tubs for some of Gus's toys and then we came home. Steve and my dad headed back out to Home Depot to get the materials to make the tot tower. I found the plans on the Ana White website and they're going to start building it on the 29th.
Here are pictures from the day:
Gus and Pap having breakfast together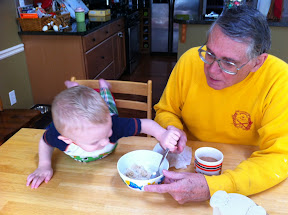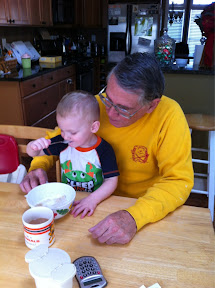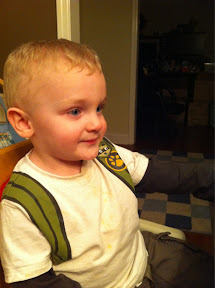 I made roasted potatoes, brown sugar carrots and ham for dinner. It was well-received and everyone seemed to enjoy it!
It's so great to be surrounded by family!!